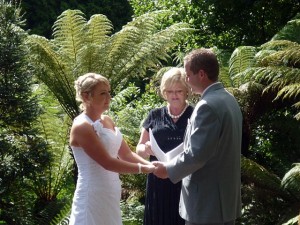 "We absolutely loved you Maura and couldn't have asked for a better Celebrant to share such an important time with us.  Not just the day, but the whole experience of planning and organising.  By the time the wedding came you felt like a friend. 10 out of 10!  No, 11!"    Jess & Joe.
"Maura is a beautiful Celebrant. She will do whatever it takes to make your wedding everything you imagined it to be. Her kind and caring nature and personal touch makes the ceremony so perfect.  Maura's guidance and support throughout the whole lead up is something we will never forget and treasure always.  We highly recommend Maura for your special day."     Haylee and Liam.
"The ceremony was delightful. There was high communication and consideration of our whole family throughout the preparation.   Thank you so much."  Jayde & Russell.
"Maura, we just want to say thanks so much for our big day.  You made it so much more special, so warm and welcoming. We had the perfect day."    Chris & Tricia.
Thank you Maura for making this ( Registry style) such an unexpectedly special experience.  Your warmth, genuine interest and gentle guidance made it such a smooth, enjoyable and beautiful event and we will never forget that. Thank you, thank you, thank you!"   Clara and Thomas.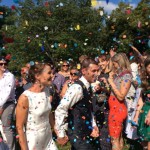 "Maura was an absolute pleasure to work with, nothing was ever a problem. We also received many comments from our guests about how engaging and lovely she was".  Elise & Matthew.
"Thank you so much for a beautiful ceremony.  It was just perfect.  Your warmth and kind nature made us at ease throughout the whole process and we are so glad that you were the person to marry us.   Emily & Gareth
"We both wanted to say a huge thank you for being our Celebrant. You were so professional, attentive and kind, we couldn't have asked for more."    Ella & Michael.
"We were so impressed with Maura and so were our guests. She has such warmth and positive energy."    H&M.
"Thank you so much for making our ceremony so magical and memorable. Your prompting, guidance and assistance pre-wedding was exactly what we needed.  Your presentation, delivery and heartfelt enthusiasm on the day were amazing." Kelly & Simon.
"We highly recommend Maura.  She is such a kind and caring person and this certainly shone through from the initial meeting."            Lindy & Glenn.
"Perfect! Wonderful! Everything we could have asked for and more!"    Jane & Kenny.
"Highly recommended, excellent communication and very helpful." Damien & Maria.
"Thank you for making our ceremony so filled with laughter and happiness. You were so warm and lovely, that even though we only met once before the wedding (because we live in Canberra) it felt like you were an old friend marrying us. Our ceremony was wonderful – thank you!"    Jenny & Andrew.
"Maura took the time to help us plan how we wanted our day. It was a lovely ceremony, just how we imagined it! Excellent!"  Maggie & Chris.
"Absolutely fantastic service"   Hoi Cheong & Lai Yee
"We felt that the ceremony set the tone for the rest of the evening and was just what we wanted: relaxed, warm and simple.  Maura really helped to create that ambience and helped to settle both  our nerves.  We would recommend her to anyone.   Sarah & Andy.
"Perfect. Maura was a pleasure to work with. Everything was explained clearly."  Michelle and Marty.
"Preparation, planning and presentation were excellent."  Jin Hyung and Suyeon.
"The ceremony was absolutely perfect. Thank you."  Helen, mother of the bride.
"We were very thankful to have someone so warm, professional and lovely, marry us. From the initial planning session to the day itself, the entire experience was wonderful. Really we cannot recommend Maura highly enough. Thank you Maura- you made the day a very happy one for us."    Heather and James.
"Thank you so much for the remarkable service on our windy wedding day."  Shane and Sunny.
"A great speech and great advice! You were a great help with everything at such short notice. We would recommend you to anyone."   Sandie and Adam.
"Excellent! Maura was lovely. She had a beautiful manner and the service could not have gone any better."    Robbie and Wang.